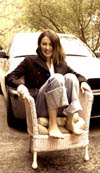 Biography
Angelina has been experimenting with various styles and media in her art for years. Earlier realist and folk art was rewarding yet not completely satisfying as
darker, interesting and more peculiar ideas were beginning to form.
Never interested in abstract art, her first exposure to Juxtapoz magazine was like opening a door to the art world of her dreams. The inspiration from this pop surrealist, exciting and vibrant art world so casually referred to as Lowbrow served as a catalyst for her developing style.
She began to realize and combine her delicate, dark subjects with surreal twists and ideas. Blending Japanese anime, folk art and representational styles to bring them to life, Angelina has created her collection, which she affectionately calls the "Senta-Mental Dolls".
The twisted fairy tales the dolls inhabit are conjured up in the 19th century home in Merrickville, Ontario where she lives with her husband and their two beautiful daughters, who are a constant source of inspiration.
Bunny Couture

24" X 36"

Clarica 26" X 30"

Doin The Dishes

24' X 36'

Dryin The Dishes 20" X 25"

Eloise 24" X 32"

Framed 21" X 37"

Pssst 24" X 36"

Redemption 24" X 34"

Remembrance 26" X 38"

Sakoura 24" X 33"

Single Again 24" X 32"

Timid Lapin 24" X 36"

Water Lily 25" X 35"
All Prices Subject To Change Without Notice
© Z.Art Gallery Inc.416-828-1376
Email us: info@zartgallery.com