"A Nose for Honey"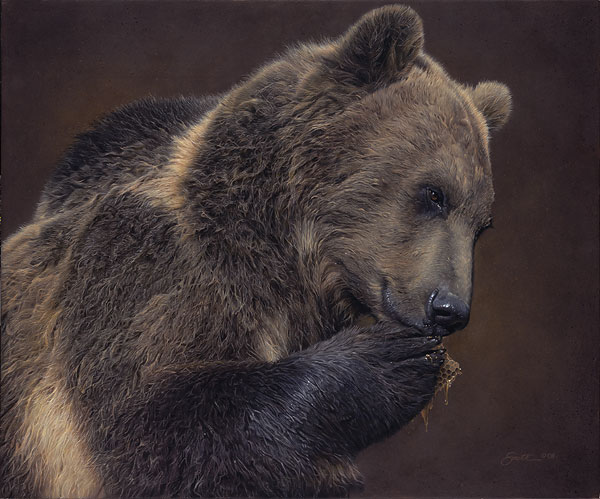 | | | |
| --- | --- | --- |
| BACK | LIMITED EDITION CANVAS | |
| | Image size: 21"w x 18"h. Edition Size:100 | |
| | US: $5950.00 | |
Published from the artist's original work.
This fall, at Indianapolis' Eitlejorg Museum of American Indians and Western Art, Daniel Smith will have his first one-man museum show. The honor is part of the Artist of Distinction award from the museum's 2007 Quest for the West Art Show and Sale.
It has been a year of distinction for Smith. He was one of ten artists featured in Settlers West's "Stars Over Tucson" this past March. His display, which showcased A Nose for Honey, sold out on opening night. With their
excellent brush work and light-hearted composition, Smith's lifelike images have become instant collector favorites.
"Bears have an uncanny sense of smell," says Daniel. "Being omnivorous, they get most of their nutrients from nuts, berries and fish (which are not very filling) so they spend most of their lives searching for food. This grizzly bear has been fortunate enough to find a cache of honey within

© Z.Art Gallery Inc. 416-828-1376
Back to Daniel Smith Page Email us info@zartgallery.com