"Winter´s Embrace"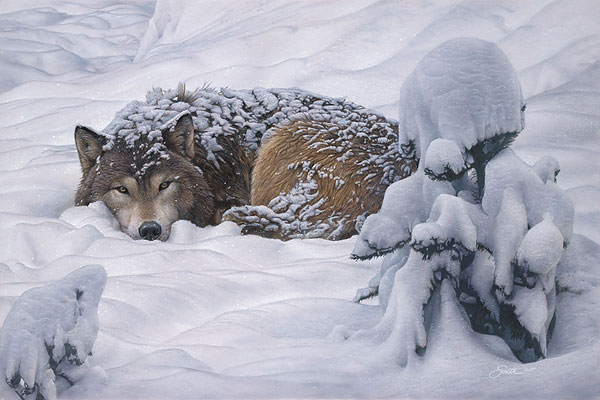 | | | |
| --- | --- | --- |
| BACK | LIMITED EDITION CANVAS | |
| | Image size: 24"w x 16"h. Edition Size:100 | |
| | US: $5950.00 | |
Published from the artist's original work.
In the mid-1990s, when wolves (which had been eradicated from the park) were reintroduced to Yellowstone, Daniel Smith worked with the Yellowstone Wolf Recovery Project, hiking through the park to observe the habits and environmental impact of the newly introduced wolves. Since then, wolves have become one of his favorite subjects and he paints them in all seasons.

"Living in the mountains of Montana has provided me with ample time to experience snow," says Smith. "Fresh snow creates wonderful textures and a quiet serenity that is always inspiring. Wolf reintroduction in the West has rekindled my interest in this extraordinary predator.
"My paintings are a reflection of many years of field work and my passion for the natural world. My objective is to share my passion through a scientifically accurate, realistic painting while maintaining artistic integrity."
© Z.Art Gallery Inc416-828-1376
Back to Daniel Smith Page Email us info@zartgallery.com