Dean Morrissey
"Danu of the Celts"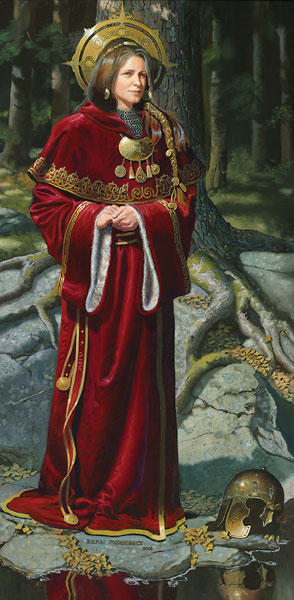 | | | |
| --- | --- | --- |
| BACK | MASTERWORK CANVAS EDITION | NEXT IMAGE |
| | Image size:21"w x 42"h.Edition Size:50 | |
| | US: $950.00 | |
Published from the artist's original work.
She stands regally, alone in the woods, clad in both chain-mail armor and red robes embellished with gold. The dual nature of her character is evident; she is both sovereign and goddess, mother and warrior, priestess and protectress. She is Danu, the Celtic mother goddess of the Tuatha Dé Danann, a tribe of gods and demi-gods in pre-Christian Ireland. With Danu of the Celts, artist Dean Morrissey continues his successful series of Celtic figures and subjects, which has previously included The Celtic King, Anna of the Celts, The Voyage of the Fianna and The Piper of Tir n' Og. Dean Morrissey has captured the fierce independent spirit of the Irish people in Danu of the Celts, making it a beautiful gift for anyone with an interest in Irish or Celtic mythology.
All Prices Subject To Change Without Notice
© Z.Art Gallery Inc. 416-828-1376
Back to Dean Morrissy Email us info@zartgallery.com