James Christensen
Lawrence Pretended Not to Notice That a Bear had Become,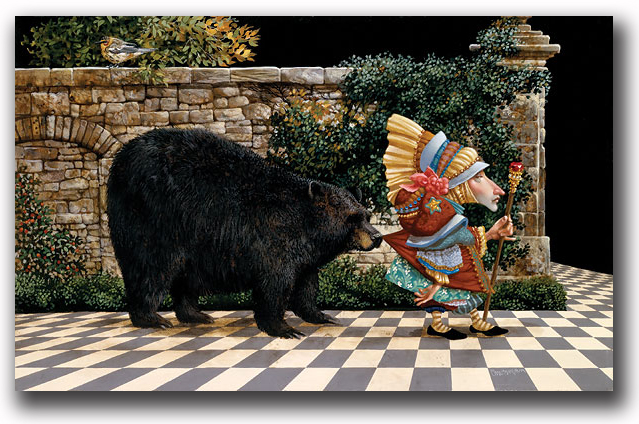 BACK LIMITED EDITION CANVAS NEXT
Image size:22"w x 14"h.
Edition Size:550
US: $525.00

"This is one of those paintings that most people can relate to," says James C. Christensen, "although often for a different reason than you may expect. I think everyone occasionally ignores problems in the hope that they will fade away, but that's not the only interpretation for the image. When wildlife painter Bonnie Marris saw this painting she cried, 'That poor bear! This is the third guy he's gotten attached to this week and this isn't even his neighborhood! Did you ever think about that?'
"Personal experience has a major influence on people's interpretation of the painting's message.When I gave a talk to third graders about trusting their ideas, I asked them what they thought Lawrence … was about. One little girl said, 'You shouldn't take pets home without asking your mom.'"
This classic Christensen image, a perennial collectors' favorite, is now available for the first time as a Fine Art Limited Edition Giclée Canvas.
Published from the artist's original work.

All Prices Subject To Change Without Notice
To Order Call
© Z.Art Gallery.
416-828-1376
Back To James Christensen Page Email us: info@zartgallery.com