" LONG WAY HOME "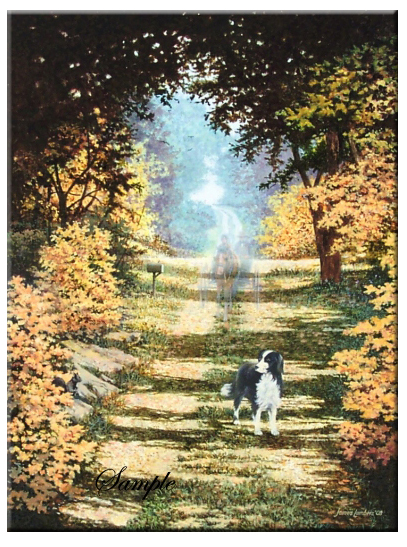 BACK 950 s/n 21 x 16" Retail Price$ 225.00 NEXT IMAGE
Sale James Lumbers Prints Limited Quantities 416-828-1376
$125.00 LTO

In the township where we live much remains the same today as it was 100 years ago. It is not unusual to see a horse and buggy passing by, hearing its wheels grinding on gravel and the familiar clip-clop of the horse's hooves. In the fresh morning air the mist rises from the ground cloaking distant trees in mystery.
I am told that one of the original settlers Fred Mc Neil passed this way on his way to the market every couple of weeks, to sell his hand crafted boots and leather goods at the local market and then picking up the necessities of life for the return trip home. Life was hard work in those days, but uncomplicated by the frustrations that we face today.
Fred's dog Sampson always looked forward to the journey as it was a chance to find some wildlife to chase and the reward of some food when they arrived at the market. Sampson outlived Fred and his wife Mary, but still kept up the tradition of walking the road looking for squirrels or anything else that would play the game with him. James Lumbers
© Z.Art Gallery. 416-828-1376
| | | | | | | | | |
| --- | --- | --- | --- | --- | --- | --- | --- | --- |
| | | | | | | | | |