" Santa's Helpers"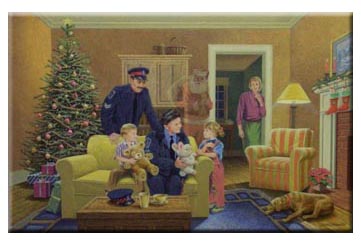 BACK Edition Size 750 S/N $250 NEXT IMAGE
Sale James Lumbers Prints Limited Quantities 416-828-1376
$120.00 LTO

This print was created to honour all of the people who serve with the Auxiliary Police Service. One of the activitiesthey participate in is delivering Christmas Gifts to children who may not be as privileged as others are. Other activities
include crowd control at parades etc., search and rescue clerical work and many other tasks. Members of the
Auxiliary volunteer many hours of their time to train and serve where their services are needed. It would be difficult for
many Police Services to function without them.
All Prices Subject To Change Without Notice
© Z.Art Gallery Inc.416-828-1376
Back to James Lumbers Page Email us: info@zartgallery.com