"Antique Barn"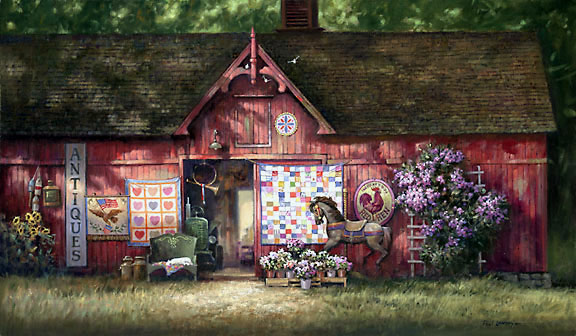 $185.00 Issue Price
CANVAS Edition Size:150 Image size: 34" x 20"
Issue Price $645.00
There's nothing like stumbling upon a great old, Yankee antique barn. Well, congratulations, you just found one! First to greet you is the family puppy. You are invited to relive your childhood dreams via the beautiful carousel pony or marvel at the patterns of Aunt Martha's quilts. Come inside to explore a treasure trove of memories that are yours for the asking. On your way home, remember one thing: You're always welcome to return.
All Prices Subject To Change Without Notice
To Order Call
©Z.Art Gallery.
416-828-1376
Email us: info@zartgallery.com
Back ToPaul Landry Page Email us info@zartgallery.com