Scott Gustafson
"Santa´s Treat"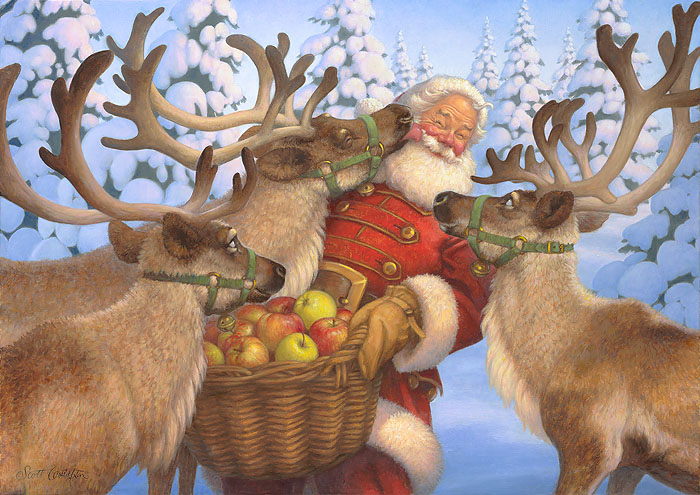 Open edition and
signed by the artist.
21"w x 15"h.
$175 USD

Published from the artist's original work.


SANTA'S TREAT

by Scott Gustafson

Christmas beckons us all to be part of the magic. It is that one time of year we all get to be children again and dream of seeing the silhouettes of Donner and Blitzen dance across the moon in the winter€ night sky. Who has not made sure that an apple or carrot sits with the milk and cookies beside the fireplace on Christmas Eve?

Even Santa knows that without his reindeer, he just another guy with souped-up sled. Santa€ Treat confirms what we€ve suspected all along, keeping his flight team happy is not something St. Nick leaves to the elves. At the North Pole, the Christmas magic gets fed every day.

They say at Christmas time all roads lead home, so make sure yours is dressed with extra holiday spirit this season by hanging Scott Gustafson€ Santa€ Treat. Make sure you take look at Scott's other warm and rich renditions of St. Nick and have a very merry Christmas this year!
All Prices Subject To Change Without Notice
To Order Call
© Z.Art Gallery.
416-828-1376
Back Scott Gustafson To Page Email us: info@zartgallery.com