Scott Gustafson
"Woodland Santa"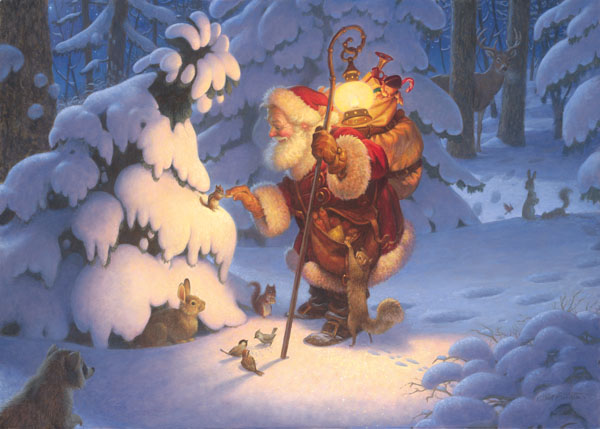 BACK

LIMITED EDITION CANVAS
Image size: 21"w x 15"h.
Limited Edition of: 200
$325.00

NEXT

More often than not, our modern vision of Santa has him flying his sleigh over chimney-studded suburbs, laughing boisterously as he fulfills the dreams of children all over the world. Artist Scott Gustafson imagined that scene in his 2006 fine art edition "Up, Up and Away" (Sold Out at Publisher).

But we rarely remember that deep in the forest Santa's arrival is equally anticipated. This "Woodland Santa" walks through the moonlit snow spreading treats and warming good cheer to all wildlife. Birds, rabbits and chipmunks surround him as the mischievous squirrel helps himself to a nut from Santa's satchel. We can imagine from Santa's face that this quiet stop gives him as much joy as filling each child's stocking. Isn't there a bird or wildlife enthusiast in your life who would cherish this holiday vision for years to come?
All Prices Subject To Change Without Notice
To Order Call
© Z.Art Gallery.
416-828-1376
Back Scott Gustafson To Page Email us: info@zartgallery.com