Scott Gustafson
"Santa at the North Pole"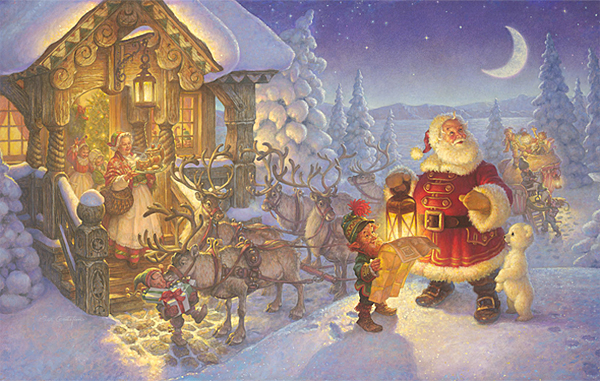 BACK

OPEN EDITION CANVAS
Image size: 17"w x 21"h.
$135.00
(This item ships Gallery Wrapped.)

Published from the artist's original work.

A sparkling Santa painting from artist Scott Gustafson is a sure sign of the upcoming holidays at The Greenwich Workshop and this year you must have been very, very good because Scott has delivered a delightful scene of Santa around the hearth receiving the rewards of a job well done. The painting is particularly dear to the artist since that's his son, cuddled up against Santa's beard and the model for the girl was his friend and neighbor. "From Up, Up and Away," "Woodland Santa," and "Santa at the North Pole," the popularity of Gustafson's jovial Santa fine art editions continues to soar. This open edition Fine Art Canvas is signed by the artist and ships gallery wrapped so you can hang it right out of the box while you listen for the sleigh bells this holiday season.
All Prices Subject To Change Without Notice
To Order Call
© Z.Art Gallery.
416-828-1376
Back Scott Gustafson To Page Email us: info@zartgallery.com