"Knockdown"
By Tony Harris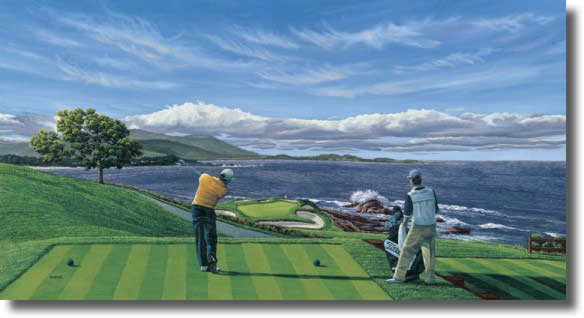 Back500 s/n 12 1/4" x 24 1/4 " $170.00 NEXT IMAGE
FRAMED $395.00 SIZE 24 X 36
Imagine!
Pebble Beach or Augusta National. Now imagine yourself playing in the U.S. Open at Pebble Beach or in the Masters; arguably two of the most coveted trophies in professional golf. You can have these prints personalized with your name on the caddy's back (position indicated by the RED arrow to the right). This feature has been a huge success and makes the print the perfect gift for any golfer!

Personalizing a print with a name on the caddy's back costs an additional $35.00
All Prices Subject To Change Without Notice
© Z.Art Gallery Inc. 416-291-1971
Back to Tony Harris Page Email usinfo@zartgallery.com