"The Covered Bridge"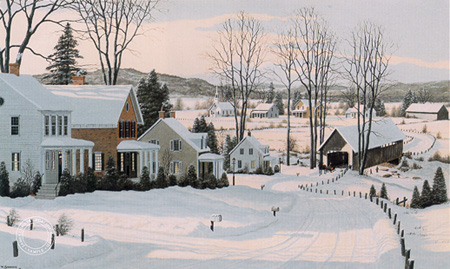 BACK Image Size: 19" x 32"
only 3 50 s/n Issue Price $180.00
A visit with friends, a sleigh ride, snow covered roads, an old bridge and a sudden darkness provided by the wooden roof against the afternoon sun. There is a mildness in the air as the late afternoon is bathed in the warm glow of the setting sun. Underneath the bridge, the children continue their play, knowing very well that Mom and Dad have returned. There's not much time left to play. It will be dark soon, and those special words will fill the air; "time for dinner".
All Prices Subject To Change Without Notice
© Z.Art Gallery Inc. 905-472-9301