"The Wood Gatherers"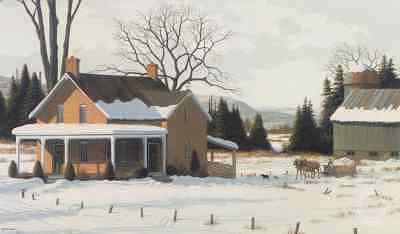 BACK Edition Size 350 S/N Issue Price $180 NEXT
Artists Proof 35 S/N $220 Image Size 17" x 28"
Generation after generation of rural people have practiced in the time honored tradition of bringing firewood up to the house on a cold morning when your breath seems to pause in the frigid air. The pristine snow crunches under foot in concert with the swishing sound of the runners on the sleigh while the horses seem to breathe like dragons. The greatest reward of all is the pungent smell of the wood as it crackles in the stove.
All Prices Subject To Change Without Notice
© Z.Art Gallery Inc. 905-472-9301
Back to Bill SaundersPage Email us: info@zartgallery.com