by R. Tom Gilleon
"Little Star People"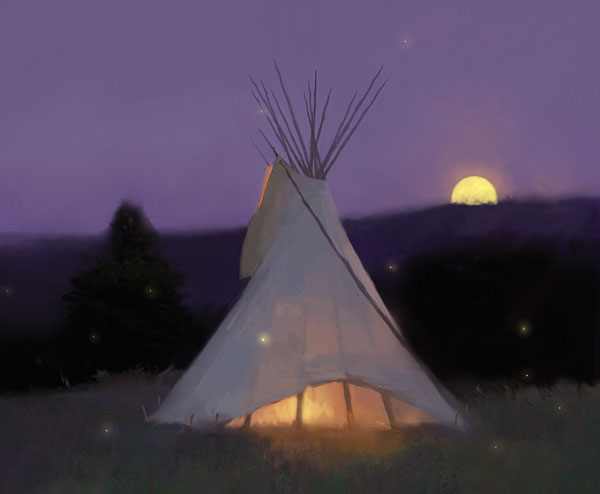 SOLD OUT
BACK

MASTERWORK CANVAS EDITION
Image size:
37"w x 31"h.
Edition Size:15


Published from the artist's original work.

US: $1,250.00


LIMITED EDITION CANVAS
Image size:
24"w x 20"h.
Edition Size:45
Published from the artist's original work.
US: $575.00

While not common to the Great Plains, the summer months do occasionally draw swarms of fireflies as far west as the Rockies. When they did range west, a visit by the Little Star People to a summer encampment was a treat for the entire band. The magic of moonrise on a warm summer evening became all the more spectacular when accompanied by the dance of these blithe spirits.
The original is part of the permanent collection of the Buffalo Bill Historical Center in Cody, Wyoming. "Little Star People" is available in two sizes, but given the popularity of Gilleon's previous releases, they will disappear quickly. Don't miss out on the opportunity to enjoy a fine art's summer evening at the campfire year round.
All Prices Subject To Change Without Notice
© Z.Art Gallery. 416-828-1376
Back to tomgilleon Email us info@zartgallery.com